NextRetreat
Team Retreats & Offsites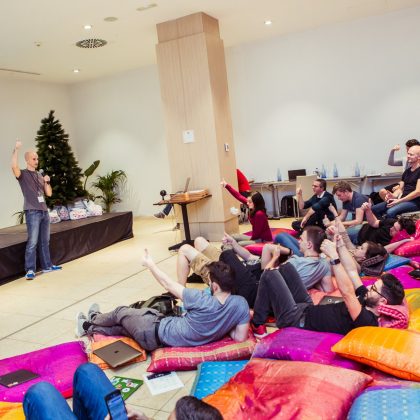 Why team retreats?
Team retreats are highly desirable for employees and team members. It's not just about a change of scene from the workplace or a break from the commute bustle and usual daily grind. Retreats are also a chance to live, work and play with colleagues in a unique and special environment. They're about getting work done, innovating, learning, bonding and team building.
Team retreats and offsites by NextRetreat offer a transformative experience that will make your people feel valued and return to the workplace with renewed energy and positivity.
Accommodation
NextRetreat offers a range of different venues at our inspiring destinations, featuring quality accommodation in fully-equipped apartments, spacious rooms, rustic log-cabins, fincas, villas and more. Want sea-views or beachside bliss? How about mountain wilderness panoramas? Or are city-centre locations more your speed? Let's start planning!
Workspace
Your team retreat workspaces are decked out with spacious desks, ergonomic chairs, printer, scanner, monitors and more importantly – an espresso machine. Naturally, spaces are covered with high-speed WiFi and a vibe nothing can beat. Need meeting spaces or conference rooms? No problem, contact the NextRetreat team now.
Team building & activities
From mountain wilderness hikes, dog-sledding, surfing or stand-up paddle to yoga, gaming, escape rooms, or wine-tasting, we can facilitate an array of fun activities to promote team building and make your team retreat more effective and totally unforgettable. Find out what's on at your next NextRetreat destination.
---
Inspiring destinations for teams
"
I have never experienced such efficient teamwork in my life. During the week we spent on team retreat, we did a job that would otherwise take three months. And we rested and had a lot of fun.

"

– Ales Teska, CEO of TeskaLabs
Reach goals
Team retreats are the perfect opportunity to focus and reach projected goals in a distraction-free environment. Planning a new build of your app or the next product? Our team retreat alumni claim rapid and effective boosts of productivity during their stay. Set and reach your goals with the help of NextRetreat.
Bond
Bonded teams perform their roles more effectively and cohesively. With positive team relationships enhanced productivity comes, which affects a company's bottom line. NextRetreat provides a unique environment for your next company retreat. Bring your team together!
Relax
To maintain output, focus, motivation and creativity, breaks are as important as the work itself. A morning swim, an afternoon run or a moment to reflect can release pressure and relax the mind. Want to use our sports gear? How about a barbecue? NextRetreat can organise after-work activities to help your team chill.
Services for team retreats