NextRetreat
Remote & Distributed teams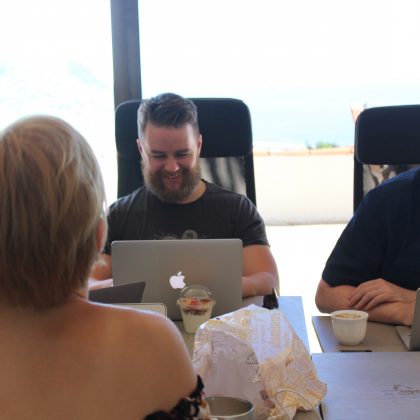 Get together, in real life
Working remotely is great! But even distributed teams sometimes need to see each other in real life – outside of Skype, Slack, and other online communication tools. That is what remote team retreats are for. NextRetreat provides an ideal solution for bringing your team together with an array of attractive locations and stylish venues with accommodation and workspaces.
Distributed teams that have already given it a go confirmed that an annual meetup or a team retreat with face to face interaction can really bring various benefits. These don't tend to have only short term effects. The benefits of such get-together are felt and visible for a long time after returning to traditional environment and schedule!
Stay
Well, you'd be glad to hear that there are plenty of cool accommodation options available to make your remote team feel comfortable, cool, calm, and collected.
NextRetreat prides itself to offer houses, fincas, villas, rooms, or mountain style log cabins in desirable locations and always close to where the action or natural beauty is.
Work
At NextRetreat we make sure you have everything you need so that you and your remote team can get serious amount of work done, without any unnecessary interruptions.
Leave it to us to ensure you have excellent & reliable WiFi connection, desks, meeting rooms, chairs and a steady stream of freshly brewed coffee always on hand to reach your team goals.
Enjoy
Everyone's most favourite part. After-work time! Time to explore new surroundings, enjoy the sun and beaches, go for a swim, surf or a hike, or hit the clubs and party till the dawn.
Whatever takes you and your team fancy, just ask us. We are here for you and can organise that for you!
---
Destinations for remote teams
"The NextRetreat team took great care of us and made sure our company meetup involving 60+ people was memorable and hassle-free.""
– Ken Weary, VP of Operations at Hotjar
Reach goals
Retreats and offsites are the perfect opportunity to focus and reach projected goals in a distraction-free environment. Planning a new build of your app or the next product? Our team retreat alumni claim rapid and effective boosts of productivity during their stay. Set and reach your goals with the help of NextRetreat.
Bond
Bonded teams perform their roles more effectively and cohesively. With positive team relationships enhanced productivity comes, which affects a company's bottom line. NextRetreat provides a unique environment for your next company retreat. Bring your team together!
Relax
To maintain output, focus, motivation and creativity, breaks are as important as the work itself. A morning swim, an afternoon run or a moment to reflect can release pressure and relax the mind. Want to use our sports gear? How about a barbecue? NextRetreat can organise after-work activities to help your team chill.
Services for remote teams